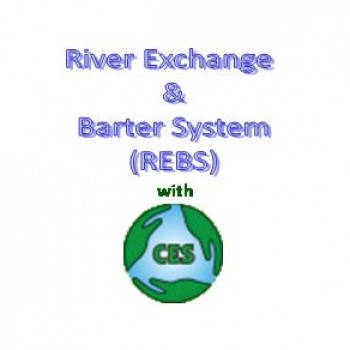 River Exchange & Barter System (REBS)
REBS helps people to satisfy their needs in exchange for skills and other things thay enjoy giving. It is a system of barter or exchange which uses a locally created "currency" between members to keep score of their trading. Within they system these "River Dollars" ($R) are equal to ordinary "Kiwi" ($K). There is a country wide network of similar "Green Dollar" local trading systems.
REBS brings local economic development to the fore with the introduction of the CES software. In barter we are limited to trading with a few friends and neighbours. REBS gives access to a network of goods and services. When Kiwi dollars are short, the local economy suffers. River dollars are always available, and depend only on the time and energy of members. They build up the local economy and make a bigger cake to share. River dollars builds up co-operation and caring rather than competition.
Over the past 18 months REBS has doubled its membership and there is a real sense of the increasing social and economic value in the network. There is a stall every week at the Saturday River Traders Market by the Whanganui river and several of the other traders at the market are now members and display "REBS Aceppted Here" signs. A bi-monthly newsetter is emailed or sent out to all members. Monthly updates on services and products offered, and those required are also sent to members.
Back to Resources